We have become more conscious of the surfaces we come in contact with, in an effort to keep ourselves and others safe from the spread of COVID-19. Frequent hand washing as directed by the Public Health Agency of Canada is a crucial part of staying healthy, but so is disinfecting surfaces, including those in your car.
To help you make informed decisions on what the best practices are to keep your vehicle as clean as possible while reducing the spread of the novel coronavirus, Nissan has some tips on what cleaning products to use, what to not use, and where to use them in your vehicle.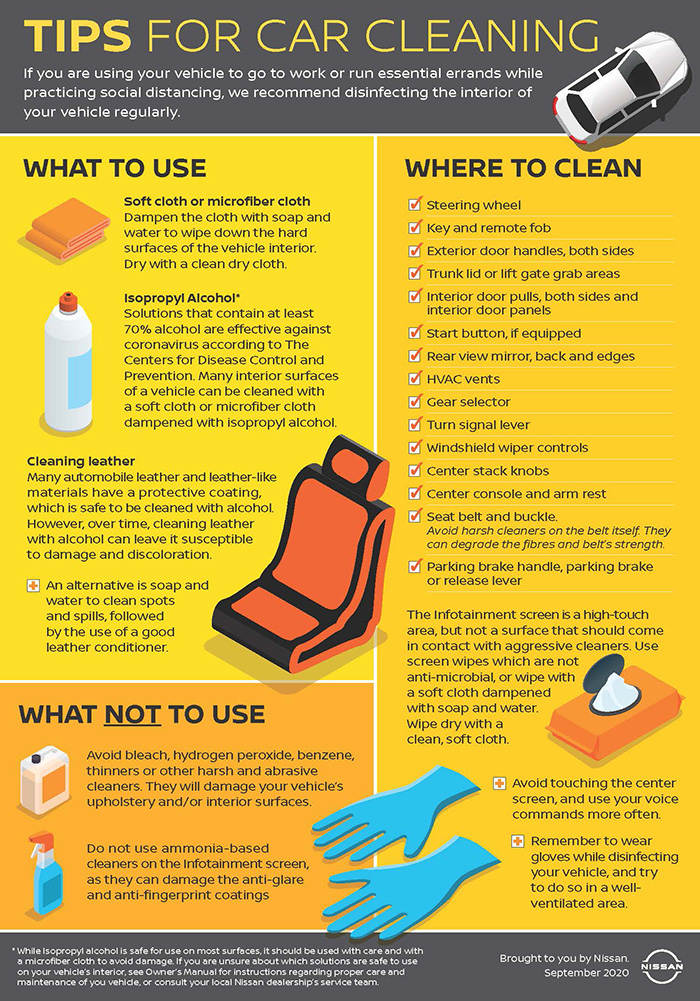 What to use:
Using Isopropyl Alcohol* – which contains 70 per cent alcohol – is effective against the coronavirus according to the Public Health Agency of Canada.
A soft cloth or a microfibre cloth dampened with soap and water to wipe down hard surfaces is also recommended.
"Even with shelter at home orders and physical distancing guidelines in place, many people still rely on their vehicle to go to work or run errands," says Andrew Harkness, director of aftersales, Nissan Canada. "Between the key, the door handle, steering wheel, trunk handle, just to name a few spots – you might be surprised at the number of places your car can harbour germs and bacteria."
Where to disinfect:
Steering wheel
Key and remote fob
Exterior door handles, both sides
Trunk lid or lift gate grab areas
Interior door pulls, both sides and interior door panels
Start button, if equipped
Rear view mirror, back and edges
HVAC vents
Gear selector
Turn signal lever
Windshield wiper controls
Center stack knobs
Center console and arm rest
Seat belt and buckle. Avoid harsh cleaners on the belt itself, they can degrade the fibres and the belt's strength
Parking brake handle, parking brake or release lever
What not to use:
Bleach, hydrogen peroxide, benzene, thinners or other harsh and abrasive cleaners – they will damage your vehicle's upholstery and/or interior surfaces.
Ammonia-based cleaners on the Infotainment screen, as they can damage the anti-glare and anti-fingerprint coatings.
"Using the right product and the right material will not only help you clean properly your vehicle but also avoid damaging it," says Harkness.
The Infotainment screen:
The Infotainment screen is tricky – it's a high-touch area, but not a surface that should come in contact with aggressive cleaners. Use screen wipes — which are not anti-microbial, or wipe with a soft cloth dampened with soap and water. Wipe dry with a clean, soft cloth.
Tip: avoid touching the center screen, and use your voice commands more often.
If a vehicle requires more than home care remember that many Nissan service departments remain open and available to assist with vehicle service, repairs, and many are offering no-contact drop off or at-home pick-up and delivery. To locate a Nissan dealership, visit: www.nissan.ca/dealer-locator.html
*While Isopropyl alcohol is safe for use on most surfaces, it should be used with care and with a microfiber cloth to avoid damage. If you are unsure about which solutions are safe to use on your vehicle's interior, see Owner's Manual for instructions regarding proper care and maintenance of you vehicle, or consult your local Nissan dealership's service team.